THE ASSOCIATION'S MAIN MOMENTS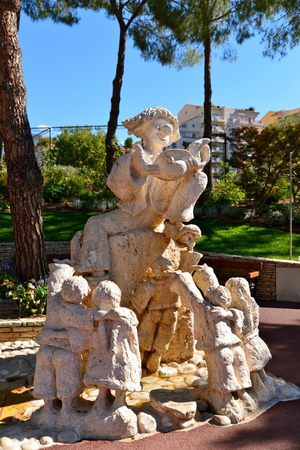 La Fontaine Universelle des Droits de l'Enfant
Cette Fontaine fait partie de la collection des Biens du Palais Princier
L'enfance, la première étape d'une vie, possède son monument depuis le lundi 20 Novembre 2000, dans le parc paysager de Fontvieille à Monaco.
Une fontaine, inaugurée par le S.A.S. le Prince Rainier III de Monaco dans le cadre de la IIème Journée des Droits de L'Enfant.
Made in travertine marble by the Italian sculptor Franco Maschio, it was donated to the Principality of Monaco by the association: "Les enfants de Frankie".
The clown is the perfect metaphor to approach simultaneously children and adults. The clown is apolitical and makes no distinction between races and religions.
Ce clown est entouré de cinq enfants, symbole des cinq continents. Quant à l'eau, elle demeure le signe de vie par excellence et sa fluidité conduit à la plaque où sont gravés les Droits de l'Enfant signé par des acteurs de cinéma, professionnels du monde sportif et des personnalités Internationales dont :
Sherley Bassey, Michele Alboreto, Andrea Bocelli, Thierry Bousten, Ringo Starr, David Coulthard, Tasha de Vasconcello, Marc Duez, Virginio Ferrari, Jean-Michel Folon, Claudia Schiffer, Magnus Larsson, ou encore Umberto Tozzi, Kees Verkade, Jacques Ickx et Emilio Sanchez.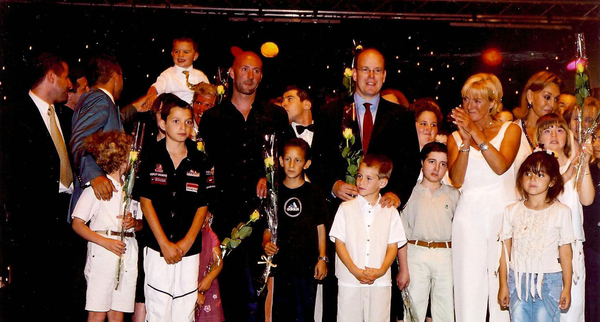 MISSION « RÊVE »
Begun in June 2002 and ended in June 2003, Mission Rêve allowed us to make 56 dreams of seriously ill children from the pediatric departments of the Archet II hospitals in Nice, Antibes Juan les Pins and the 'SPESS AUSER association from Italy. Sponsored by HSH Prince Rainier III, HSH Prince Albert II, by International Sport Stars and singers such as Mickaël Schumaker, Luca Laurenti, Fabien Bartez, Zinedine Zidane, and by the members of the association: 56 dreams have been realised in one year. On 5 June 2003, in front of a full audience and in the presence of HSH Prince Albert II of Monaco and all the sponsors and children, we were able to show of all these dreams….

"The Star of Frankie"
The story of the little star
It is with immense joy that Trau Bros - Scintilla Monaco, Sightholder since 1947 of the famous Diamond Trading Companytakes part in the associative life of our Principality by supporting the fabulous project of the association "Les enfants de Frankie", by donating a unique diamond necklace with a pattern of twelve stars.
The Twelve diamond stars have traveled our planet to meet 12 Ambassadors who each organised an action to help suffering children:
Monaco, Mozambique, Gabon, Belgrade, Prague, Rabat, Naples, Princeton, Tel-Aviv, Londres, Paris, then back to Monaco.
During this trip the diamonds were worn by each of the exceptional Ambassadors who carried out projects for the Children of their respective countries. The return to the Principality of the "little star" during a beautiful Gala evening on 6 December 2007, brought this generous year-long journey to a close.
It was during this evening that the "little star" in diamonds, invested with the missions that it symbolised, was transformed into a majestic and unique necklace, in the form evocative of the Principality which brought it to life.

Frankie and The WeelChair Foundation
In 2005, Frankie and his team collaborated with The WeelChair Foundation across the Atlantic for a unique action.
In order to improve the daily life of young people with disabilities, the two associations donated 560 Wheelchairs to hospitals and various associations in Monaco and the PACA Region:
On October 10th 2005, during the official ceremony and in the presence of HSH Prince Albert II of Monaco, the first 35 wheelchairs were handed over on the Palace square of Monaco. These first chairs were donated to Monegasque Charities and to the " Princess Grace Hospital".
On November 23rd, 400 wheeled seats were allocated to the "University Hospital of Nice " which distributed them to five hospitals in the Region.
And the last 125 wheelchairs were donated to medical educational institutes in the Region.
This large-scale action has made it possible to improve the care of young patients in these hospitals and to improve the mobility of many children